Discovery of Minnesota boy's remains reignites Iowa cold cases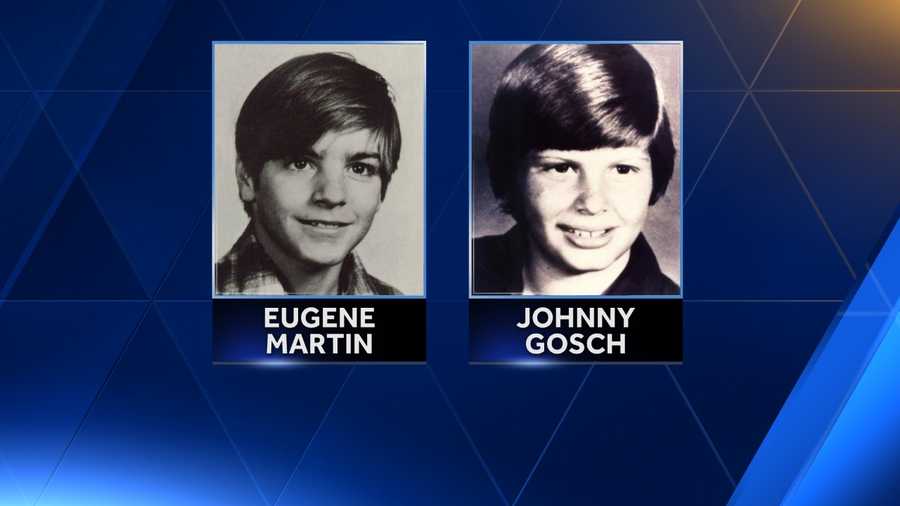 DES MOINES, Iowa —
The remains of a Minnesota boy who was kidnapped in 1989 have been found in an undisclosed location, authorities said Saturday.
Jacob Wetterling, 11, was riding his bicycle with his brother and a friend when a masked man approached the boys, asking for their ages. The man told Trevor Wetterling, 10, and Aaron Larson, 11, to run away and not look back.
The Minneapolis Star Tribune reports that an original suspect in the case, Daniel James Heinrich, 53, who was arrested last October on child pornography-related charges and has been in federal custody sever since, agreed to provide information on the location of the remains.
"Our hearts are broken," Jacob's mother, Patty, told the Star Tribune. "We have no words."
The significant development in the Minnesota case is a grim reminder of two Iowa boys who went missing in the 1980s as well – both of whom were paperboys.
Johnny Gosch, 12, went missing 34 years ago this Labor Day weekend as he was delivering newspapers in a West Des Moines neighborhood.
"With the news today that possibly Jacob Wetterling's remains were found after many years of waiting by his family, sadly, this would be some resolution for his family," Johnny's mother, Noreen, told KCCI. "My thoughts and prayers are with them as they wait for final results."
Noreen Gosch still deals with the pain by taking action to keep the case alive, although she believes her son was a victim of human trafficking and sold to a pedophile.
Eugene Martin, 13, disappeared on Aug. 12, 1984, while delivering newspapers in Des Moines.
Older cold cases, authorities said, are reviewed on a yearly basis, and the department has a select group of officers who specifically look at old cases
@@@@@@@@@@@@@@@@@@@@@@@@@@@@@@@@@@@@@@@@@@@
Shocking 1981 Documentary: Boys For Sale
December 1, 2016 renegade 3 Comments
An enlightening documentary broadcast before the onset of the so-called 'Satanic Panic' in the USA. This documentary therefore provides us with insight into the actuality of the situation before information became skewed by the subsequent propaganda and hysteria of the late 80's and 90's. The horrific details as outlined by Tom Philpott in this documentary are truthfully reflective of what was happening then, what continued to happen throughout the 'Satanic Panic', and what continues to happen today in all of the major metropolises of the Western World.
Skip to content
January 14, 2018
Snohomish County Reporter
Making Some Sense of the Franklin Sex Abuse Scandal… Well Sort of
Posted By Brandia on August 29, 2014
I do not like stories that make no sense, or that are wrapped in so much whoopdy woo that you can't make heads or tails of it.
As I said in the last story, the whole situation is is drenched in so many bizarre conspiracy theories that it's hard to cut through it to make some sense of it. Which is EXACTLY what the CIA/Secret Service & the others involved in this want to happen so that the stories & people involved lose all credibility.
The problem is that this involves some of the info I was given about some local people so I HAVE to figure it out to connect the dots. I "got the gist of it" but no one in hell is going to understand it unless they know the stories behind it.
What makes it worse is that if you just do a simple search on the internet all you get is big old cans of crazy, even the crazies can't make up their minds if everyone involved are freemasons, pagans, devil worshippers, dirty jews, kaballahists, mormons, or catholics…but mostly just jews (((sheesh)))
Theodore Carlson, District Judge. Tom McKenney, Douglas Country Attorney. Not only was he a pedo involved in the Franklin Scandal, but he was also a drug trafficker, along with Judge Theodore Carlson. Jarrett Webb, a Franklin Credit Union executive. He was most likely a Jew. James C. Hart, Jr., the Franklin Credit Union Secretary. He was a Jew. Many other names were involved from outside Nebraska, of course. One was Ron Gilbert, a Jewish Hollywood TV producer who was also a porno film maker. One of the biggest "customers" of the Franklin pedo ring, who sexually abused young boys at parties held by Larry King, was Massachusetts Congressman Barney Frank. Deward Finch, Superintendent of the Fort Calhoun high school, just eight miles from Omaha. He was, of course, another Jewish pedophile who was majorly involved in the Franklin child prostitution ring
As if that wasn't enough Nebraska is another word spelled backwards so the claim is that it is the "epi-center" of evil
Why Omaha? Of all the places in the country to run a massive child pedophile ring that stretched all the way to Washington, why Omaha? What made Omaha the focal point of this crime syndicate? Since the 19th century, the Omaha elite business community has been organized around the Knights of Ak-Sar-Ben, a quasi-Freemasonic social organization. Ak-Sar-Ben, by the way, is Nebraska spelled backwards. But does this name not have strong Hebrew overtones to it, just like Freemasonry itself? And how about reversing the spelling of Nebraska? Doesn't that have a hidden meaning as well–the meaning of running the state in reverse? Anyway, seeing that so many Jews were involved in the Franklin Scandal and its cove-up, is it not obvious that this whole operation itself was Jewish, as is the case with every single other major crime syndicate in history? Anyway, every year Ak-Sar-Ben celebrates a ritual coronation of the "King of Ak-Sar-Ben," generally an older corporate executive, and his Queen, generally the younger wife or daughter of another man in the club. The rituals and "den shows" mimic ceremonies from different lands, real and invented, and are always "pagan," in classic Freemasonic style. Past Ak-Sar-Ben festivity themes included: "The Roman Hippodrome," "King Arthur's Wild Goats," "Trouble in the Tropics," and "Hi-Jinx in Hades." Sometimes the men and boys of Ak-Sar-Ben have paraded in women's clothing, or dressed as Egyptian goddesses.
Oh & just to agitate the whole thing even more one of the people involved is really in fact some priest thing at a satan church somewhere in California… You can NOT even make stuff like this up. Then to further incite the CT's Aquino's boss says he has no problem with him being a devil worshiper/priest. OF COURSE he has to say it, this is America with that whole pesky freedom of religion thing
tumblr_mmstjlTSEF1rpu62do3_500
button_aquino-devil-worshiper
This is what I got personally from everything I have read:
Larry King, a pedophile himself: uses his relationship with Boys Town & the Catholic church which runs it, to gain access to male victims. Somehow he finds a buddy or two that share his "interests" then he is arranging molestation parties, running drugs, auctioning kids off, & getting help from someone to arrange late night trips to the White House. (How in the hell does that conversation even start?) Then commences the cover up of not just one scandal but two of them
Here is a timeline from "The Franklin Case" website part of which I found on line & part of which I have added through my own research because it has a lot of missing info & incorrect dates & even incorrect spelling of names. This sadly is only a small part of it. If you have the time & inclination you can find the whole book at this link. Everybody who died is in italics & there were many who died…
The Franklin Case Timeline
1968 – 1976
12-31-1968 – The Franklin Credit Union is established in Omaha, Nebraska.
8-1970 – Lawrence E. King Jr. becomes manager at The Franklin Credit Union.
7-1976 – Accountant Thomas Harvey, of the Franklin Credit Union, discovers the manipulation of the bank accounts. Harvey begins to manipulate the Franklin Credit Union books to cover for the missing money. By the end of 1976 $400,000 was missing from the Credit Union's bank funds.
1978
1978 – Paul Bonacci attends sex parties with Alan Baer at an apartment at the Twin Towers in Omaha.
12-1978 – Paul Bonacci starts a sexual arrangement with Harold W. Andersen CEO of the Omaha World Herald that would go on later to try to discredit every victim of the alleged abuse.
1979
1979 – Paul Bonacci is introduced to Peter Citron at Peony Park.
1980
12-1980 – Paul Bonacci meets Lawrence King in Sarpy County, where he says they preformed satanic ritual abuse.
1981
1981 – An anonymous letter was sent to the National Credit Union association detailing concerns about the Franklin Credit Union. A limited investigation took place; the investigation revealed approximately $400,000 was missing.
8-1981 – Paul Bonacci began going of town with Alan Baer, he would assist Baer in entrapping new children to be used by Baer and others.
1982
1982 – Paul Bonacci was flown to California (Bohemian Grove) to participate in orgies.
9-5-1982, Johnny Gosch was kidnapped from a West Des Moines. James Rothstein is a former New York City police detective, now a private investigator working the case for Johnny Gosch's mother, Noreen.
1983
1983 – James Daniel (Danny) King meets Lawrence King and Alan Baer at a party.
4-1-1983 – Harold Andersen speaks at the Franklin Credit Union Annual Meeting.
8-1983 – Troy Boner meets Alan Baer thru a friend at Twin Towers apartments.
1984
2-1984 – James Daniel King takes an out of town trip with Alan Baer.
2-1984 – Edward Hobbs, a Franklin Credit Union teller who had worked for the bank for five years, writes a letter to the Franklin Board alleging embezzlement at the Franklin Credit Union. The following day Hobbs was fired. Hobbs also supplied a letter to an Attorney and a Legislator. Their response to Hobbs was that "We've been watching Lawrence King for some time. We are aware of his living beyond his means. However, the Department can't do anything because we don't want to seem like the big bad white guy jumping on the tiny, black credit union."
4-1984 – James Daniel King meets Lawrence King at Alan Baer's residence.
7-1984 – Troy Boner meets Lawrence King at the Max Bar in downtown Omaha.
8-1984 – Lawrence King throws a lavish party in Dallas, Texas, after singing the National Anthem at the Republican National GOP Convention.
9-1984 – Lawrence King gets an apartment for Troy Boner at 48th & Dodge, at the apartment King would abuse Boner.
9-1984 – Lawrence King takes Lisa Webb and 15-20 boys from Boys Town Omaha to Chicago for a sex party.
1985
1-1985 – A party is thrown at the Brandeis Building in Omaha, where both Troy Boner and Lawrence King were in attendance.
5-1-1985 – Alisha Owen gives birth to a baby named Amanda Jayne.
6-1985 – Foster children are removed from Jarrett and Barbara Webb's home after children complain of physical and sexual abuse by the Webbs. The Webbs were related to Larry King in some way.
1985, a young girl, Eulice (Lisa) Washington, was the center of an investigation by Andrea L. Carener, of the Nebraska Department of Social Services. The investigation was instigated because Lisa and her sister Tracey continually ran away from their foster parents, Jarrett and Barbara Webb. Initially reluctant to disclose information for fear of being further punished, the two girls eventually recounted a remarkable story, later backed up by other children who had been fostered out to the Webb's [sic]. These debriefings were conducted by Mrs. Julie Walters, another welfare officer, who worked for Boys Town at the time, and who had been called in because of the constant reference by the Webb children and others, to that institution. Lisa, supported by her sister, detailed a massive child sex, homosexual, and pornography industry, run in Nebraska by Larry King. She described how she was regularly taken to Washington by plane, with other youths, to attend parties hosted by King and involving many prominent people, including businessmen and politicians. Lisa specifically named George Bush as being in attendance on at least two separate occasions.
8-1985 – Party at the Woodman Tower Ballroom. In attendance were James Daniel King, Lawrence King, Alisha Owen, Rusty Nelson, and Troy Boner.
11-1985 – Throughout a six-week investigation by Lincoln and Omaha Police thirteen individuals were arrested for child pornography charges. Included in the arrests were: Joseph Burke, Walter Carlson, Winford Fryar, and Leo Weidenfeller, all of which were charged with felonies. Misdemeanor arrests included: Alden Jensen, Ben Bruner, Jon N. Nelsen, Harold Potter, Alvin R. Buehler, Mark Woods, Lawrence Reeves, Harold Miller, and Don Nordboe. Joseph Burke was later sentenced to 2-5 years in prison. Walter Carlson was sentenced 15 months to 3 years. Investigators, however, indicated in reports that there initial six week investigation did not mean the investigation was over, and that half of the pornographic material still had not been viewed by police. Reports though indicated no further investigation took place into the child pornography ring. Later certain investigators of the Franklin Case would question whether or not this case had any ties to the Franklin debacle.
December 25th 1985 – Curtis Tucker found dead. An associate of Larry King. He fell, or was more likely pushed, out a high window in the Omaha Holiday Inn.
1986
1-1986 – Lisa Webb, who testified to have been abused by the Webb's was administered, and passed multiple polygraph tests questioning her allegations. However, prosecuting attorney Pat Tripp made a decision not to prosecute the Webb's.
3-1986 – Julie Walters interviews the Webb girls, after the interviews Walters contacts Pat Flocken regarding the allegations made by the girls. Allegations included instances where Larry King was in attendance at parties in which the Webb girls and other children had been physically and sexually abused. Mrs. Julie Walters, now a housewife in the Midwest, confirmed that in 1986 she had interviewed the alleged child prostitute, Lisa, who told her about Mr. George Bush. Lisa and her sister Tracey were temporarily living at the time in the home of Kathleen Sorenson, another foster parent. Mrs. Walters explained that at first she was very surprised. But Lisa, who came from a very underprivileged background with no knowledge of political affairs, gave minute details of her attendance at political meetings around the country. From Julie Walters' 50-page handwritten report: 3/25/86. Met with Kathleen [Sorenson] and Lisa for about 2 hours in Blair [Neb.] questioning Lisa for more details about sexual abuse…. Lisa admitted to being used as a prostitute by [Lawrence] King when she was on trips with his family. Lisa said she first met V.P. George Bush at the Republican Convention (that Lawrence King sang the national anthem at) and saw him again at a Washington, D.C. party that [Lawrence] King hosted.
4-1986 – Paul Bonacci reveals his history of sexual abuse to school authorities. Authorities contacted the Omaha Police, however, no investigation was ever made based on the allegations.
6-1986 – Harold Andersen raised $600,000 to pay for a renovation of the Franklin Credit Union.
1986 Charlie Rogers.dead A reputed homosexual partner of King. He was said to have talked of being in fear for his life in the days leading up to his death. His head was blown off with a shotgun, in what was claimed to be, once again, a "suicide."
1987
6-1987 – Lawrence King donates $16,000 to the Omaha Press Club (a club of Omaha's business elite).
12-1987 The Foster Care Review Board begins investigating Franklin related allegations.
8-17-1987 – Bill Skoleski. An officer in the Omaha Police Department, who was believed to have been keeping a file on Larry King. He supposedly died of a heart attack.
1988
3-1988 – The Initial Franklin probe begins.
6-1988 – Omaha Police Department begins to receive allegations from the public concerning Lawrence King photographing young ladies at the Twin Tower Apartments.
6-1988 – The Omaha Police Department receives a report from Kristin Hallberg of the Richard Young Psychiatric Hospital in Omaha regarding sexual abuse and homicide allegations involving Larry King. These allegations came as a response to reports from the Foster Care Review Board on Nelly Patterson*, and her sister Kendra.*
7-1988 -The Foster Care Review Board turns over all investigative information to Attorney General Robert Spire and the Omaha Police Department.
8-1988 – Lawrence King throws a lavish party in New Orleans, after a return appearance to the Republican GOP Convention to sing the National Anthem.
Sept. 7, 1988 – Larry King reported his own adoring relationship to the late CIA Director William Casey in a, interview in the Omaha publication Metropolitan.
10-02-1988 – Lawrence King donates $18,000 of Franklins assets to the D.C. Board of Human Rights Camp Fund, a lobby for gay and lesbian rights.
11-04-1988 – The Franklin Credit Union is closed by the FBI and IRS. After the closing $37,000,000 in secret liabilities were discovered. Originally the Franklin Credit Union ledgers showed $2,600,000 in liabilities.
11-14-1988 – The NCUA files a lawsuit against Lawrence King, contending he diverted money from the credit union for his personal use. The NCUA suit claimed King had used the diverted funds to run his businesses and to pay interest and principal on unrecorded certificates of deposit.
11-18-1988 – The Nebraska Legislature passes a resolution to investigate improprieties at the Franklin Credit Union.
11-21-1988 – The Foster Care Review Board receives additional information from the Richard Young Hospital (Kristin Hallberg) including allegations of cult activities and sacrifices of small children, and sexual abuse.
12-1-1988 – NCUA officials raise their estimate of Franklin's potential liabilities to $39 million.
12-1988 – Lawrence King admits in an Omaha World Herald article that he suspects the Franklin case involves more than the certificate of deposit allegations, King declined to be any more specific about the allegations.
12-1988 – Lawrence King denies diverting more than $34,000,000 from Franklin's assets. King followed by asking the court to dismiss the civil lawsuit that had been taken out against him. King also requested for a trial by jury.
12-1988 – The FBI and Nebraska State Patrol contact the Foster Care Review Board and question certain children's reliability and credibility.
12-19-1988 – Omaha TV news outlets mentioned they were investigating the sex and drugs angle of the Franklin Case. This marked the first time the media mentioned drugs in relation to Franklin matter.
12-25-1988 – The State Foster Care Review Board turns over their report of sexual abuse to the Executive Board of the Nebraska Legislature.
1988 – Harmon Tucker, a school superintendent in Omaha and Iowa, a reputed homosexual, his death had signs of satanic ritual murder. He was found dead in Georgia, near the plantation which Harold Andersen and Nebraska-Iowa FBI chief Nicholas O'Hara used for hunting.
12-1988 – Dan Ryan. An associate of King. He was found strangled or suffocated in his car.
12-21-1988 – Bill Baker. He was a restaurant owner in Omaha who was a partner with King in gay porno operations alleged to be involved in the production of child pornography. He was found shot in the back of the head.
1989
1-10-1989 – The Franklin Committee is formed by LB-5.
2-19-1989 – Senator Loran Schmit meets with Lawrence King. During the meeting King discusses his powerful acquaintances including Harold Andersen and agents of the FBI and Omaha Police.
5-19-1989 – A federal grand jury charges Lawrence E. King Jr. with 40 felony counts. His wife, Alice, was indicted on 12 charges. Three employees of Franklin who sold certificates of deposit on commission were indicted on income-tax-evasion charges.
5-23-1989 – Lawrence and Alice King plead not guilty.
5 & 6 -1989 – Larry King Jr. just happened to make contact with Patricia Johnson-Holm in the Lynnwood Wa area
6-13-1989 – Mrs. Harvey and her son, E. Thomas Harvey Jr., Franklin's chief accountant, each pleaded guilty to one count of embezzling and one count of evading federal income taxes.
6-22-1989 – Omaha Police Officer Chris Carmean testifies in front of the Franklin Committee that the child abuse witnesses are credible. The authorities backtracked and stated that they had done everything in their power to investigate these claims. Attorney General Robert Spire said: "We did receive some sensitive information in July. My office acted promptly and professionally and nothing was sat on." However, it would later be revealed that no authorities ever interviewed Eulice Washington and other children noted by the FCRB until 3 years later after they made their report public.16 Despite this, Omaha Chief of Police Robert Wadman stated to the press that "Every step that should have been taken, was taken."17 However, Wadman would later confess that he had never contacted Eulice Washington, one of the children abused at the hands of Webb, nor the Child Protective Services department that handled Washington's claims. Wadman would later be identified as a child abuser at King's parties by four different victims. In an early police investigation, low level police officers attempted to keep their inquiries a secret from Wadman, seemingly knowing that he would be adamant about shutting down their investigation. Nebraska Foster Care Review Board official Dennis Carlson related Omaha Police Officer Carmean's testimony to the Legislature's Executive Board hearing: "[Officer Carmean] told me some things which I found to be somewhat startling. I asked if he was interested in information regarding Larry King and he said, yes we are, we're conducting what he called a supersensitive investigation of Larry King and he said this investigation was so supersensitive that they were not even using the steno pool in the Omaha Police Department. They were handwriting their police reports, and he also told me that Chief Wadman had come to their unit and directly asked if they were investigating Larry King…. Investigator Carmean told me, we lied to the Chief and we said, no, we are not investigating Larry King. OK, so that conversation took place on July 20th of 1988 Shortly afterword, Officer Carmean was transferred out of the Robbery and Sex unit and the investigation stalled. On July 5, 1989, in a lengthy "Inter-Office Communication" to Omaha Public Safety Director Pitmon Foxall (a cousin of Larry King), Wadman announced that Carmean needed a mental health evaluation.
6- 1989 – Craig Spence turned up dead just three months after a Washington Times article was published, which exposed a call-boy operation that was run from within the Reagan-Bush White House. The police were quick to call Spence's death a suicide, of course. According to the August 9, 1989 edition of the Washington Times, Spence had hinted that his White House prostitution operation was assisted by top-level persons, including Donald Gregg, national security advisor to Vice-President Bush.
7-1989 – Nicholas O'Hara of the FBI claims there are no credible witnesses for the Franklin Case.
7-1989 – The Franklin Committee reports that their intent of investigative action is to follow the money trail.
7-1989 – Ernie Chambers, James McFarland, Kirk Taylor, and Jerry Lowe resign from the Franklin Committee in light of the new angle the committee was to take by following the money trail.
7-25-1989 – Concerned Parents Group formed to press local officials in regards to the Franklin Case
8-21-1989 – Gary Caradori hired as Chief Investigator for the Legislature's Franklin Committee.
10-1989 – Kathleen Sorenson, foster parent of children who had escaped the Webb family, and outspoken activist on raising awareness of the abuse of the children she cared for. Kathleen Sorenson. A foster parent of Franklin victims "Nelly" and Kimberly Webb. She was an outspoken activist against Satanism. She died in a very mysterious car crash.
11-25-1989 – Gary Caradori interviews victim Troy Boner at the Residence Inn.
12-27-1989 – The Franklin Committee gives copies of taped testimonies to the FBI, which subsequently was leaked to the media.
1990
1-18-1990 – John DeCamp releases the "Franklin Memo," which included the names of Harold Andersen, Lawrence King, Peter Citron, and Alan Baer.
1-30-1990 – Attorney General Robert Spire calls for a Grand Jury.
2-23-1990 – Sex Charges (unrelated to the Franklin Case) filed against Peter Citron.
2-1990, Samuel Van Pelt, a retired Nebraska judge, was appointed special prosecutor of a Douglas County grand jury charged to investigate child exploitation pertaining to King.
3-12-1990 – The Douglas County Grand Jury convened.
3-19-1990 – The Douglas County Grand Jury starts the Franklin abuse trial.
3-29-1990 – Lawrence King is declared incompetent to stand trial. US Magistrate Richard Kopf, who deposited Lawrence King in a federal psychiatric hospital so he wouldn't have to appear before the grand juries, and signed off on the FBI's federal search warrant of Alisha Owen's prison cell, is now a US District Court Judge.
4-19-1990 – Harold Andersen testifies before the Grand Jury.
4-26-1990 – Mayor P.J. Morgan testifies before the Grand Jury, stating that he was "outraged" by accusations against him involving the Franklin Case.
5-14-1990 – Gary Caradori takes videotaped statements from Paul Bonacci.
5-15-1990 – Former World-Herald columnist, Peter Citron pleaded no contest to two felony charges of fondling boys. He is later diagnosed as a mentally disordered sex offender requiring treatment.
5-25-1990 – Judge Murphy orders for a blood test on Alisha Owen's baby.
7-11-1990 – Gary Caradori and his son, Andrew, are killed in a plane crash in Aurora Illinois. The National Transportation Safety Board investigation found that the wreckage was scattered over a radius between 3/4 to 1 mile, indicating without a doubt that the plane broke up in the air, instead of upon impact. Certain items were missing from the crash, most notably Caradori's briefcase. Within 24 hours, all of the evidence was collected by the FBI and sealed. It turns out he was meeting with Russell 'Rusty' Nelson, a photographer for Larry King, who attended King's parties with the intention of photographing powerful men in compromising positions with minors, in order to blackmail them later
7-23-1990 – Peter Citron sentenced to 3-8 years for sexual assault.
7-23-1990 – Media Polls taken in Omaha show that 70-90% of the population polled believe there is a cover-up that has taken place in the Franklin matter.
7-23-1990- Paul Bonacci is indicted on 3 counts of perjury.
7-23-1990 – Alan Baer is indicted on felony charges of pandering.
7-23-1990 – Alisha Owen is indicted on 8 counts of perjury. Gerald Moran, who was the Douglas County Deputy Attorney who prosecuted the Alisha Owen trial. is now a Douglas County District Judge.
7-24-1990 – The Grand Jury throws out the Franklin Case, labeling it as a "carefully crafted hoax." Thomas Thalken, Assistant US Attorney for District of Nebraska, who prosecuted the federal grand jury in Nebraska is now a US Magistrate.
7-26-1990 – Alan Baer pleaded innocent to pandering charges, and is released on a signature bond.
8-8-1990 – Paul Bonacci and Alisha Owen enter innocent pleas to their perjury charges.
8-17-1990 – John DeCamp files a suit against the Douglas County Grand Jury.
11-07-1990 – Lawrence King is now called competent to stand trial.
11-14-1990 – Joe Malek. An associate of Larry King and owner of Peony Park, where homosexual galas were held. His death from a gunshot was ruled a suicide.
1991
3-13-1991 – Newt Copple. He was a confidential informant for investigator Gary Caradori. He was also a key activist fighting the cover-up of the Franklin case. He is said to have suddenly and unexpectedly "died in his sleep" in March of 1991, at only age 70.
1-4-1991 – John DeCamp's suit against the Grand Jury is dismissed.
1-14-1991 – Shawn Boner, Troy's brother, found shot in the head shortly after Troy was to testify before court. The official explanation of his death was ruled to be a game of 'Russian roulette'.
1-11-1991 – The Nebraska State Legislature refuses to continue the Franklin Committee's investigation after losing important chairs on the committee.
1-20-1991 – Clare Howard. Former secretary of Alan Baer. She arranged his pedophile trysts. She is also said to have "died in her sleep,"
2-1-1991 – John DeCamp files a Civil Rights suit on behalf of Paul Bonacci, against the Catholic Archbishop of Omaha, Lawrence King, Peter Citron, Alan Baer, Harold Andersen, Michael Hoch, Kenneth Bovasso, and other Nebraska persons and institutions.
2-11-1991 – Lawrence and Alice King enter a plea bargain to stay out of open court.
1992
5-1992 – John DeCamp publishes The Franklin Cover-Up.
1993
1-28-1993 – Peter Citron Granted Parole; A three-member majority of the Nebraska Board of Parole voted to release Peter Citron from prison Wednesday. Two board members who opposed Citron's release questioned whether he had accepted responsibility for his crimes and whether he had learned to control his sexual desires for young boys. Citron has not successfully completed mental health treatment for sex offenders. The former entertainment reporter for The World-Herald and WOWT-Channel 6 had served more than 2 1/2 years of a three- to eight-year prison sentence for sexual assault of children. Prison was one of the most frightening things he'd ever experienced, Citron told the Parole Board. Parole Board Chairman Ethel Landrum and board member Lee Oberg voted against Citron's parole. Ms. Landrum mentioned an unfavorable psychological evaluation completed earlier this month and expressed concern that Citron had been removed for lack of participation from two sex-offender treatment programs offered him during his incarceration. Early Support The majority of the Parole Board made it plain early in the hearing that Citron would be released. "I don't have any questions (for Citron), but I do have a statement to make," board member Donald McCall said at his first opportunity to speak. "I support Mr. Citron for parole today." Board members Marlene Cupp and Michael McLaughlin also voted for parole. Citron, 53, was convicted in May 1990 of fondling an 11-year-old boy in 1988 and a 13-year-old boy in 1989. Although his name had been among those circulated in rumors of child sexual abuse connected with an investigation into the failure of the Franklin Community Federal Credit Union, authorities said the case against Citron was not connected with the Franklin allegations. After his arrest, Citron was suspended by The World-Herald. He resigned eight days later. During Wednesday's hearing he said he does not remember assaulting either boy. Ms. Landrum questioned his failure to acknowledge that the assaults occurred. "I'm capable of it," Citron responded. "It's always there. I can't say I didn't do it." Those who testified in favor of Citron's parole included his two lawyers, two rabbis and Lincoln TV personality Leta Powell Drake. Rabbi Aryeh Azriel of Temple Israel in Omaha said the Jewish community would welcome Citron's return. "I think Peter is a fragile man, a broken man," Azriel said. "It's about time to invite him back to join our community. He is a withered tree that's spent too much time here. He needs to be planted in new ground to blossom and flourish."
7-1-1993 – Alice King completes her prison sentence in Dallas, Texas.
7-5-1993 – Lawrence King had paid $25.00, and his wife Alice had paid $10.00, thus far, after agreeing to pay $41,800,000 in the plea bargain they had entered in 1991.
1994
5-3-1994 – The Discovery Channel, was to air the Yorkshire documentary Conspiracy of Silence, about the Franklin cover-up, however, the documentary was pulled off the air at the last minute, and purchased by an unknown buyer.
1996
1996 – William Colby, the former director for the CIA who had mentored DeCamp through the Franklin scandal dies in a mysterious "canoe accident"
1999
2-14-1999 – Paul Bonacci wins a judgment of $1 million against Lawrence King, John DeCamp had represented Bonacci in his lawsuit against King.
11-1999 – Alisha Owen is denied a hearing to commute her sentence in order to set her free. Robert Sigler, who was the Douglas County Deputy Attorney who prosecuted Alisha Owen throughout her multiple appeals, is now an Assistant US Attorney for the District of Nebraska.
2000
1-2000 – Lawrence King drops an appeal to the $1 million judgment against him.
2001
4-10-2001 – Lawrence King is released from prison after serving less than 10 years of his 15-year sentence. Moved to DC but his actual activities & whereabouts are still unknown
2002
11-6-2002- Alan Baer, 79, died of cancer. The Alan and Marcia Baer Foundation gives generous donations to Nebraska arts and educational agencies, as well as to various charities. Baer was a great-grandson of Jonas L. Brandeis, who founded Boston Store, a department store that led to the J.L. Brandeis & Sons Department Store. In 1987, Baer made a five-year, $7 million loan to the Knights of Ak-Sar-Ben. In 1990, a grand jury investigating various allegations surrounding the 1988 collapse of the Franklin Community Federal Credit Union indicted Baer on two pandering charges. He later pleaded no contest to a single reduced charge of aiding and abetting prostitution and paid a small fine.
2003
Spring-2003 – Troy Boner arrives at a New Mexico hospital; he was sedated upon admittance, the next day he was found dead in his hospital room.
2003 – Monsignor Robert Hupp, the Vicar-General of the Archdiocese of Omaha, a former Navy chaplain, and, in 1976, the first-ever clergy member of the U.S. delegation to the United Nations, had reported in the early 1970s to his bishop that there was sexual abuse at Boy's Town that even involved a priest murdering a boy. Hupp was later named the head of Boy's Town, ostensibly to keep him quiet. Hupp was in charge of Boy's Town until the late 1980s, when the Franklin scandal first hit the front pages. Eventually, even after stepping down as the head of the orphanage, Hupp was forced to leave Boy's Town altogether. WMR has learned that in 2003 a longtime supporter of Boy's Town allowed Hupp to move into his cabin in Mausten, Wisconsin after being forced to leave the facilities at Boy's Town. A reporter for the Omaha World-Herald, a newspaper owned by Nebraska billionaire Warren Buffett and which always had a skeptical view of the Franklin scandal, volunteered to drive Hupp to Wisconsin. Upon arriving at the cabin, the reporter prepared dinner for Hupp. The retired monsignor who broke the Catholic Church's silence on its role in the Franklin scandal, died in his sleep that same night.
June, 28, 2003 – Ex-World Herald Writer Peter Citron Dies after drinking drain cleaner
2012
1-20-2012, Carol Stitt, the 29-year director of the Nebraska Foster Care Review Board, an individual who aggressively protected foster care children in Nebraska from sexual perverts and other undesirable foster parents, was dismissed by her own board of directors.
Like I said the above is only a small fraction of what I have learned, there is so much more & please keep in mind that there are really a lot of people with everything to lose.
More importantly I want you to understand that NO ONE was ever charged for these horrific acts of abuse… NO ONE.
Kind of makes our DOJ Human Trafficking Prosecution Unit unit look like the colassal joke it is: Message to Pedophiles? Hey you no molest kids unless you got gubberment job!
Some were charged with other things, but most of them walked off scott free. Even those that were prosecuted had a cakewalk, most getting out of prison in 1/4 of the time they were ordered to serve.
So we have one of the heads of our military intelligence that is in fact a priest of a self founded satanic church, we do have the absolute meaning of the name of the state of Nebraska – Ak Sar Ben. We also have numerous people involved in the mind control programs of the CIA… Then we had one "case" that was separated into 2, because the call boy scandal that shut down the escort services in D.C., the children in the White House were in fact provided by Larry King. The same exact children as above.
The good news is that Johnny Gosch's mother & a former NY city detective have never given up & came up with some new information in 2005
In May 2005, Rothstein has uncovered new evidence linking Johnny's kidnapping to child prostitution. Rothstein states, "It basically came down to one thing and one thing only. You know, it was money. These kids were being grabbed to satisfy the malignant, twisted, you know, evil depravity of very powerful individuals who have the money," Rothstein reported that his source, a former CIA officer (or contact agent) stated, "that at the end of their (CIA's) investigation that there were 834 kids involved that were kidnapped," This CIA guy said he must remain anonymous. Rothstein is talking new evidence pointing to the involvement of U.S. government officials. "They were using kids to compromise people. And what better way to compromise somebody than get a young boy with a politician or some powerful person that may be in the military or whatever and then you can compromise them and get what ever you want." Rothstein now believes the CIA was involved and tried cover it up. "They were assigned to find out if there was an agency connection to it and I am quite sure that if they found one, to make sure it was covered," he says. And Rothstein's CIA informant says this: "We were specifically ordered to clear our name. This would make the American agency look pretty shitty, like we're all a bunch of fucking child molesters." Rothstein's source says, it happened often and for big bucks, "You could order one of these kids, it was $2,500 to $3,000 up front then you had the balance of another $3,000 to $3,500 or $4,000 upon completion. In some cases, you know depending on the circumstances you can probably get them at the bargain basement price of $1,500, but most I think that we ever saw was for the bondage and the freaky shit and that was an even $10,000 and people…these people would hand that money out like it was candy." Those witnesses include a Black Hawk County woman who wishes to remain anonymous. She sent Rothstein this packet of information. "Johnny Gosch is mentioned in it involving something that was going on years ago in the Waterloo, Iowa area," Rothstein says. And while Rothstein hasn't determined the significance of the possible Waterloo connection, he says it's just as important as the phone conversation he had with a CIA agent. "That's solid information with names. That's where you start investigating and that should have been done years ago," he says.
So what this means to me is that according to the CIA informant the CIA is also investigating the things going on, which means as an agency they are not grabbing kids, only a select few agents of the CIA – the FBI – secret service are acting on their own. The shame is that these same agencies are covering it up at all costs instead of protecting innocent children which makes them just as guilty as the perpetrators.
Trust me there is NO lack of depravity in the FBI office either, just in the last few years there have been upwards of 20 agents charged with child rape & pornography charges,,, but the good news if there can be any is that the FBI seems to go after even their own if they are involved in abuse of children or sex crimes. Here is just 10 stories but sadly a Google search will find you many more. Seese is on here twice because there were 2 separate incidents. I am including these stories & names because they also have to do with what & who I am working on. If you live in the NW you will be very familiar with some of these names.
1) Anthony John Lesko, 44, entered an Alford plea yesterday in Spotsylvania Circuit Court to nine counts of felony indecent liberties upon a child.
2) A longtime FBI agent who helped arrest infamous outlaw Claude Dallas has been sentenced to a year in prison for possessing child pornography. William Buie, 64, was sentenced Monday after pleading guilty in March. Buie told authorities that he learned to access child pornography Web sites while attending a seminar on preventing child exploitation in 2000 or 2001.
3) John H. Conditt Jr., 53, who retired in 2001, The former chief internal watchdog at the FBI has pleaded guilty to sexually assaulting a 6-year-old girl and has admitted he had a history of molesting other children before he joined the bureau for a two-decade career.
4) A Dauphin County judge this morning sentenced former FBI agent Ryan Seese, 37, of Derry Township, to 1 to 23-1/2 months in county prison plus 3 years' probation for two Peeping Tom incidents at a middle school and a gym.
5) Two FBI workers are accused of using surveillance equipment to spy on teenage girls as they undressed and tried on prom gowns at a charity event at a West Virginia mall. Gary Sutton Jr., 40, of New Milton and Charles Hommema of Buckhannon have been charged with the misdemeanors and face fines and up to a year in jail on each charge if convicted.
6) A local former (FBI) agent arrested on child pornography charges Donald Sachtleben was arrested in May 2012, According to court documents, Sachtleben hid behind the email 'pedodave69@yahoo.com' and openly traded child porn.
7) State Police arrested a local FBI late last week on public lewdness charges. 48-year-old John Yervelli, Jr. of Lake View is accused of exposing himself to a truck driver while traveling along the eastbound I-90 Friday night in Eden.
8) An FBI agent who works with the Boone County Sheriff's Department Cyber Crimes Task Force against child porn is charged with choking a thirteen-year-old boy unconscious. Special agent Scott Armstrong, 37, In a probable cause statement, the 13-year-old claims Armstrong strangled him with a chokehold until "temporarily losing consciousness." Armstrong admitted to "placing his arm around" the boy's neck until the teen passed out. The report does not explain why the boy was at Armstrong's residence. It does say that Armstrong's wife was there at the time, as well.
9) A former FBI agent who was already convicted of spying on a 14-year-old girl inside a bathroom at Hershey Middle School is facing even more charges. Last month 36-year-old Ryan Seese admitted he went into the middle school bathroom and peered over a stall to watch the teen. That incident happened back in May. He pleaded guilty in late August.
10) Jury Finds Conklin Guilty In Fondling Of Teenage Boys — Former Redmond Lawman Could Get 8 Years For most of his life, Bob Conklin was a man of the law: a prosecutor, a police officer, an FBI agent, even a jailer. But yesterday, a jury convicted Conklin, 51, on four counts of third-degree child molestation and one count of indecent liberties.
I hope what catches your attention is that 834 children are suspected to have been used in the sex trade, stolen from their families & abused by people in power. Why are we as a Nation NOT doing anything? Why is it that the only thing that happened to the people who covered this up got promotions? How do they live with themselves every day? How do they sleep at night? What's more I have a list of over 1500 people involved in this as perpetrators, as investigators, as advocates & as victims… 12 of them I have directly linked to the people I am writing about in our state of Washington. So now I have to find out how they are involved & to what extent. Are they directly involved or are they just using the info to blackmail others? Trust me when I say this: I will find out, I will get to the bottom of this.
Click here for reuse options!
Copyright 2014 Snohomish County Reporter
Share this:
Click to share on Twitter (Opens in new window)Click to share on Facebook (Opens in new window)Click to share on Google+ (Opens in new window)
Like this:
Loading…
Related
Franklin Sex Abuse Scandal Conspiracy Theory or… Ties to Washington State?August 26, 2014In "City of Everett Prosecutors, Judges & Commissioners"
Local Activist Enters Race for Washington State Representative 26th DistrictMay 24, 2016In "Corruption"
Preston Ellis Gates ~ Abramoff ~ Jenny Durkan & Washington State LeadersSeptember 4, 2014In "Corruption"
Posted in City of Everett Prosecutors, Judges & Commissioners, Corruption, Crime & Courts, Local News, Local Politics, National Corruption, National News, National Politics, Politics, Snohomish County Elected Officials, Snohomish County Prosecutors, Judges & Commissioners, State Politics, Understanding SnoCo Government, WSBA Tagged Alan Baer, Alden Jensen, Alice King, Alisha Owen, Alvin R. Buehler, Amanda Jayne, Andrea L. Carener, Anthony John Lesko, Assistant US Attorney for District of Nebraska, Assistant US Attorney for the District of Nebraska, Attorney General Robert Spire, Ben Bruner, Ben Sasse, Bill Baker, Bill Plemmons, Bill Skoleski, Bob Conklin, Bob Passantino, Boeing, Bohemian Grove, Boys Town, Brandeis Building, Capt. Pompei, Captain Foster, Carol Stitt, Catholic Archbishop of Omaha, catholics, Charles Hester, Charles Hommema, Charles K. Dutcher, Charlie Rogers, CIA, CIA Director William Casey, Clare Howard, Col. Bill Risher, Col. Harris Livik, Con Lahners, Congressman Barney Frank. Deward Finch Superintendent of the Fort Calhoun high school, Conspiracy of Silence, Craig Spence, Curtis Tucker Kathleen Sorenson, Dan Ryan, Dennis Carlson, devil worshippers, Don Nordboe, Donald Gregg, Donald McCall, Donald Sachtleben, E. Thomas Harvey Jr., Edward Hobbs, Ernie Chambers, Ethel Landrum, Eugene Mahoney, Eulice (Lisa) Washington, FBI, FBI agent Gerry Wahl, Fort Bragg, Fort Defiance, Fort Riley, Franklin Credit Union, Franklin Memo, freemasons, Gary Caradori, Gary Sutton Jr., General Colin Powell, George Bush, George H. W. Bush, Gerald Moran, Governor Ben Nelson, Harmon Tucker, Harold Andersen, Harold Miller, Harold Potter, Harold W. Andersen CEO of the Omaha World Herald, Henry Rosenthal, Henry Vinson, James C. Hart, James Daniel (Danny) King, James Daniel King, James McFarland, James Rothstein, Jarrett and Barbara Webb, Jarrett Webb Franklin Credit Union exec, Jerry Lowe, jews, Jim Kolbe, Jim Rothstein, Joe Malek, John DeCamp, John H. Conditt Jr., John Yervelli, Johnny Gosch, Jon N. Nelsen, Joseph Burke, Jovan, Jr, Jr. the Franklin Credit Union Secretary, Judge Inbody, Judge Murphy, Judge William Sessions, kaballahists, Kansas, Kendra Patterson, Kenneth Bovasso, Kirk Taylor, KL & Gates, Knights of Ak-Sar-Ben, Kristin Hallberg, Kurt Cobain, Labor Secretary Elizabeth Dole, Larry King, Lawrence E. King Jr., Lawrence King, Lawrence Reeves, Lee Oberg, Leo Weidenfeller, Leta Powell Drake, Lisa Webb, Lt. Col. Michael Aquino, Lt. Dave Bannister, Man-to-Man, Mark Foley, Mark Johnson, Mark Woods, Marlene Cupp, Mayor P.J. Morgan, Metrodate, Michael Flanagan, Michael Hoch, Michael McLaughlin, Monsignor Robert Hupp, mormons, Mrs. Harvey, Mrs. Julie Walters, National Republican convention, Nebraska Department of Social Services, Nebraska Legislature, Nelly Patterson, Newt Copple, Nicholas O'Hara, Officer Dale Eggers, Offut Air Force Base, Omaha Chief of Police Robert Wadman, Omaha Police Department, Omaha Police Officer Chris Carmean, pagans, Patricia Johnson-Holm, Paul Bonacci, Paul R. Balach, Peter Citron, porno film maker, President Reagan, Preston Ellis & Gates, Preston Gates and Ellis, Rabbi Aryeh Azriel of Temple Israel, Rep. Robert Bauman, Republican Convention, Richard Armitage, Richard Young Psychiatric Hospital, Robert Sigler, Ron Gilbert, Rusty Nelson, Ryan Seese, Sam Pierce, Samuel Van Pelt, Scott Armstrong, Secret Service spokesman Bob Snow, Senator Barney Frank, Senator Loran Schmit, Shawn Boner, Stanley Mark Tapscott, such as a Burning acorn, Ted Gunderson, Terryle LEE HOLM, the Vicar-General of the Archdiocese of Omaha, Theodore Carlson District Judge, Thomas Harvey, Thomas Thalken, Todd A Blodgett, Tom McKenney Douglas Country Attorney, Tommie Carter, Tracey Washington, Troy Boner, Ultimate First Class, Ultimate Models, US Attorney General Jay B. Stephens, US Magistrate, US Magistrate Richard Kopf, Vice President Dan Quayle, Walter Carlson, Waterloo Iowa, Wesley Pruden, William Barr, William Buie, William Colby, Winford Fryar, World-Herald, WOWT-Channel 6
Post navigation
← Franklin Sex Abuse Scandal Conspiracy Theory or… Ties to Washington State?
Meet The Author
twitter or paper
My "newspaper career" started in school where I published a school newspaper in 1975 and the local Everett newspaper republished some of my articles and poems, I was forever changed. I knew then I was born to do this. I left SnoCo as a pre-teen and finally came back in 2000 where I found that the corruption had become so bad that it was unbearable. I kept wondering why someone didn't do something about it and then I realized I was someone.
I plan on exposing every single one of the people who violate any citizen's rights and I am not going anywhere until they restore my life, reputation and compensate me for the misery that they have caused for myself and my family…
@@@@@@@@@@@@@@@@@@@@@@@@@@@@@@@@@@@@@@@@@@@@@
larry king a pedophile?????
Posted: Aug 5, 2004 9:53 am
The idea may be shocking to you, but it is, in my opinion, a fact that brings great urgency to our
need to protect our children from the great evil
in our midst. President Bush postured to address this critical issue in his recent address at the White House Conference on Missing, Exploited, and Runaway Chldren on October 2nd.
THE COVERUP CONTINUES
Somehow he managed to avoid speaking about the ongoing pedophile priest scandal in the Roman Catholic Church. I can understand this omission for obvious political reason.
However, perhaps he discussed the matter in Rome when he me with the Pope last August. Afterall, the accused pedophile featured in the enclosed documentary used the Catholic institution of Boystown to run his nationwide child prostitution network in collaboration with his father, then Vice President George HW Bush on behalf of the CIA whose directors have usually been Knights of Malta, a secretive militant right wing organization of the Roman Catholic Church.
I could write this letter without referencing this vast network, but it would be dishonest of me not to give you all the facts as I know them. Afterall, it was CIA Director William Colby, himself a Knight of Malta, who helped expose this national pedophile network by giving his friend, attorney John DeCamp, the necessary leads to pursue.
What I am talking about is not ancient history, but a continueing coverup by the FBI and corporate media
as witnessed by the fact that nobody dares to point out the obvious link between the current pedophile priest scandal that exploded in Boston and the Omaha-based
pedophile ring in Nebraska run by Larry E. King, Jr., a rising black star in the Republican Party in the late 70's and 80's.
OMAHA-BOSTON AXIS OF EVIL
Here is an example to prove my point: I researched the background of the psychiatrist who treated convicted
pedophile priest Paul Shanley for 'anxiety'. According to the Boston Herald, Dr. Edwin Cassem, the Chief of
Psychiatry at the renowned Mass General Hospital in Boston, is a Jesuit priest. Cardinal Law appointed him to the original commission he created to reexamine the way 'the Church' should treat pedophile priests.
Apparently, Paul Shanley sufferred from no sexual disorder, just anxiety and stress for being persecuted as a pedophile. Am I too cruel or is Dr. Cassem a friend to pedophiles?
CREIGHTON UNIVERSITY IN OMAHA
I suggest the answer lies in the fact that he serves on the same Board of Directors at Creighton University like many of the same Omaha political-econiomic elite who financed Larry King, Jr. to head the Franklin Credit Union which in turn formed close economic ties with Boystown. Please refer to the enclosed list of these directors and pay particular attention to the highlighted names prominently mentioned by attorney John DeCamp on pages 158-59 and pages 134-135 in his Franklin Coverup: Child Abuse, Satanism and Murder in Nebraska as being either collaborators with King's illegal activities or political godfathers who corrupted the police and press to support these activities.
Also, please note that Dr. Cassem, who was born in Omaha, is listed as Rev. Ned Cassem with same job title. (He may no longer hold that position, but he was heading a $40 million research project funded by NIMH
to determine which psychiatric drugs work best for
'anxiety'. Personally, I am not surprised to find him promoting the interests of the multinational pharmaceuticals with whom the Bush family isso friendly.)
But, I digress. Either the Boston press is totally ignorant of this national pedophile network or it is covering it up. Afterall Larry King, Jr.'s business partner, Craig Spence, committed suicide in his Ritz Carlton Boston hotel room in November 1989. A former NBC reporter, said to be well=connected to the CIA, Mr. Spence was scheduled to testify before Congress to explain how and why he was caught giving a midnight tour of the White House to a group
of homosexual prostitutes.
Rumor has it that he was given the key by President
Bush aide, Don Gregg, another CIA linked asset deeply involved with Col Oliver North in the Reagan administration's Iran Contra operation. These facts are significant, because the $40 million embezzled by Larry King, Jr. is believed to have been skimmed off into this operation run from the White House by Vice President Bush.
Did I forget to mention that Larry King. Jr. is a convicted felon and due to be released today from his federal prison in oorado? He served 10 years for his financial crimes, but thanks to an aggressive FBI coverup, he was never charged with any pedophile related crimes.
PAUL BONACCI
Yet after many long years of litigation, Paul Bonacci, a client of John DeCamp, was granted a $1 million civil judgment against King. King did not contest the suit
while in jail. When asked if Lawrence E. King ever sexually abused him, he answered, " Yes, he did on numerous occasions. " How many times would you estimate, the judge then asked. " Probably a couple of hundred. Within all of the different personalities (i.e.
multiple personalities) Beginning at the time I was approximately 12 or 13 years old. Up until I was about 17 or 18." ( pg 127 BUSHWHACKED: Inside Stories
of True Conspiracy by Uri Dowbenko).
Mr. Bonacci, who is interviewed in this documentary, also testified to how King took him to many cities, including Wahington DC, Kansas City, Chicago, Minnesota, Los Angeles, and, of course, Boston. What does he remember? He remembered going to house in Boston that belonged to Congressman Barney Frank! (pg 126 Ibid) Wasn't he the congressman censored for living with a homosexual prostitute?
Is it possible that Craig Spence was in Boston to meet with Barney Frank regarding his coming testimony before Congress? This is a question serious journalists should be asking and investigating. I live in the backwoods of Maine and I am asking this question and many others, but I do not have the resources to investigate these details.
I hate to focus all my attention on this axis of evil between Omaha and Boston, but I grew up in Massachusetts where the corrupt relationship between the FBI and organized crime was recently a part of the daily news.. So, please do not try to tell me that
the FBI would not coverup the existence of a pedophile sex ring if its exposure would embarrass the President of the United States. Please read Mr. DeCamp's book for the details. To order a copy send email to Shangrila@sprynet.com
THE NAMBLA CONNECTION
Perhaps you find these ideas too extreme, too difficult to believe, but let us approach this Omaha-Boston
link to a national pedophile ring from another angle.
Paul Shanley was a founding member of NAMBLA (National Association of Man-Boy Association). This political front group for pedophiles was organized in Boston. Despite this known association, Shanley was allowed to continue to work as a priest within the Roman Catholic Church.
While being prostituted out of Omaha, Paul Bonacci
has testified that he had attended child sex slave auctions in the company of David Vorstad, a notorious member of NAMBLA. Frankly, I was shocked to read
that another NAMBLA member had lived in the same
section of Boston where I once lived. Shanley was convicted of molesting boys in a Jamaica Plain parish.
Last year in Massachusetts a member of NAMBLA was convicted of brutally murdering a young Cambridge boy and dumping his body in my home state of Maine.
Where am I going with this? President Bush in his speech praised the Justice Department for increasing
its prosecution of child sex traffickers and specifically praised the FBI's Operation Candyman for 'dismantling a major child pornography ring' and making more than
100 arrests.
While these actions are praiseworthy, the President's words are hypocritical. Why? Because Paul Bonacci
has testified to how he was forced to help kidnap another young boy, Johnny Golsh in Iowa. The boy's mother, Noreen Golsh, hired a private detective who traced the missing boy to a child sex slave auction in Houston.
Houston happens to be one of two hometowns claimed by CIA President Bush, the elder. The other being
Kennebunkport, Maine, my homestate. It gives me no pride to have this criminal living so close to me.
Houston is also home to several members of the Saudi Royal family. Their mansions, according to certain private investigators, there and in Beverly Hills have been the scene of child sex slave auctions. Yes, children are bought and sold there, and some are flown out of the country, just as secretly and surreptitiously as the flight arranged by FBI and the White House with Saudi Ambassador Bandar to fly some ten members of the Bin Laden family out of Boston's Logan Airport in the wake of the dastardly 911 attack.
The close ties between the CIA and Bush linked
Carlyle Group and Saudi Arabia should be reexamined in this light.
THOUSAND POINTS OF LIGHT?
Perhaps you have seen the recent commercials by former CIA President Bush promoting his charity as honorary chairman. Few people remember that he gave his original Thousand Points of Light at Covenant House in NYC on June 22, 1989.
Ironcally, only one week later the Wahington Times headline about Craig Spence read : " Homosexual Prostitution Inquiry Ensnares VIPS with Reagan,
Bush "(June 29,1989).
The founding director of this New York-based charity for homeless children, Father Bruce Ritter, was a favorite of the Reagan administrtion. Reagan even gave him an award in the White House. Eventually he resigned in disgrace for paying a male teenage prostitute for sex out of the funds contributred to his $100 million charity for homeless children.
Ironically, Sister Mary McGready attended this recent White House ceremony to publicize te President's concern for abused and neglected children. She succeeded Ritter and worked hard to remove the moral stain he left on Covenant House whose Board of Directors were strongly linked to te CIA and the Knights of Malta. These directors included WR Grace who ran Project Paperclip for the CIA. He was a Knght of Malta, and as was William Simon, the Nixon Republican.
All these facts are relevant to the child sex ring organized by Covenant House in Guatamala with the help of the Connecticut based Americares whose Board of Directors included Barbara Bush and Prescott Bush, the brother.
I am saving the best part for last to demonstrate that there are many reasonable leads to follow to connect the dots and identify this national pedophile network.
THE FRIENDS OF FATHER RITTER
The story of Father Ritter's rise and fall is told in Broken Covenant (1992) by Charles Sennott, who is now to the best of my knowledge a London-based reporter for the Boston Globe, which is owned by the New York Times. Ritter tried to set up a Covenant House in the Combat Zone of Boston with the support of then Cardinal Medeiros. However, eventually he was thwarted by a combination of factors, including Sister Barbara Whelan who wanted to know why her kids in crisis program was underfunded.
The only Boston reporter willing to suggest that the Boston pedophile priest story had wider implications was Boston Herald columnist, Howie Carr. He called
loudly for Cardinal Law to resign while slamming the way church authorities allowed Shanley to continue molesting children. He noted that Shanley was chosen to succeed Dr. Frank Pilecki as director of the Leo House, a Catholic youth hostel in NYC- in Manhattan where Covenant House was based.
Another source reported that they had met at McLean Hospital in Boston area where Shanley was the chaplain and Pilecki, then President of Westfield State University, was a patient recovering from allegations of molesting two male college students.
Mr. Carr also mentioned that Dr. Pilecki was a good friend of Father Ritter. The question reporters in Boston and across the country should be asking and investigating is: Did Shanley and Ritter know each other?
Unfortunately, the acerbic Mr. Carr did not go far enough, because as reported by Charles Sennott, another good friend of Ritter was Robert Macauley, the founding director of Americares. This fact is significant because Macauley was the roommate of former CIA President George Bush at Phillips Academy in Andover, Massachusetts and his classmate at Yale. Do you think they were good friends?
Ritter was a frequent guest at Mcauley's estate in Connecticut, a state that is, in my experience, very friendly to pedophiles. I know for a fact that the best friend of an accused pedophile linked to this network
is a physics professor at Amherst College, not far from
Westfield in western Massachusetts.
Macauley was also on Board of Directors of Covenant
House which was organized as Casa Alianza in Guatamala to house the orphans whose parents were killed by the CIA linked right wing death squads. The new director at Casa Alianza, Bruce Harris, has waged
a brave battle to remove the pedophiles who had gatered like vultures.
Whatever award Father Ritter was given by President Reagan is much more richly deserved by Bruce Harris.
Will President Bush acknowledge him?
CURRENT STATUS OF OMAHA BASED PEDOPHILE RING?
Not likely. Instead President Bush has greeted Father Val Peter at the White House to promote his 'faith-based initiative', the idea embodied by the sex pervert, Father Ritter. Val Peter, as head of Boystown and head of its Board of Directors facilitated Larry King's access to its finances and his children. He did this with the help of Wall street billionaire, Warren Buffett, whose Berkshire Hathaway is based in Omaha.
Buffett was also good friends with Larry King- hosting a party to celebrate his 10th wedding anniversary. Another good friend of Buffett recently appeared on the cover of Fortune magazine.
911/FRANKLIN COVERUP
You should read this July 2002 issue and try to grasp how the political forces promoting a pedophile agenda
are the very same who launched the high tech company of L-3 Communications which built the computer communications system for GLOBAL HAWK, the remote control technology that more and mre people believe was responsible for directing the 911 attack.
The man on the Fortune cover, Walter Scott, Jr., was,
until recently, a longtime member of the Creighton University Board of Directors. Did he know Dr. Cassem
or his family?
OFFUTT AFB
Creighton University also has a working relationship with the nearby Offutt Air Force Base only 15 miles from Omaha. Paul Bonacci has testified that he was
abused at Offutt AFB where the satanist Lt Col Michael Aquino has been accused by others of carrying out brutal torture and mind control experiments.
Why wasn't Mr. Bonacci invited to the White House
to talk about missing and exploited children? It may be the greatest of ironies that President Bush was flown to Offutt AFB for safe keeping on 911. That is our SAC command center. I do not imagine that Paul woul feel safe there or at the White House.
If you are distubed by these facts and allegations, as I am, please, do what you can to investigate them further. How else can we save our children?
goober
Posted: Aug 5, 2004 9:56 am
Reply Quote
Read Alex Jones websites for NWO plan
to replace Dubya. What I want to bring to everyone's attention is the fact that, like pedophile priest Paul Shanley in Massachusetts, Warren Buffett is linked to the Omaha-based
child prostitution ring identified by attorney John DeCamp in THE FRANKLIN COVERUP.
The media silence on this matter proves to me the existence of what criminal investigator Sherman Skolnick calls 'the homosexual/pedophile underground'.
How far will they go to coverup the existence of this pedophile elite? The attorney for many victims of Shanley filng suit against the Roman Catholic Church is Roderick MacLeish.
His grandfather, Archibald MacLeish,
like both Presidents Bush, was a member of Skull& Bones. Rumor has it
that he will negotiate an out of court settlement to help stop any further investigation of Shanley's links to others, like maybe Congressman Barney Frank.
It may be pure speculation, but one source told me she believes that this attorney took the information we provided him (including a copy of BBC documentary CONSPIRACY OF SILENCE about Larry King, Jr.) and showed it to Boston's new archbishop to demonstrate the value of settling out of court. Afterall who wants to remind the American people that the Roman Catholic Boystown was used to
serve a major CIA/Knights of Malta operation known as Iran-Contra.
goober
Posted: Aug 5, 2004 10:09 am
Reply Quote
"Conspiracy of Silence", a documentary listed for viewing in TV Guide Magazine was to be aired on the Discovery Channel, on May 3, 1994. This documentary exposed a network of religious leaders and Washington politicians who flew children to Washington D.C. for sex orgies. Many children suffered the indignity of wearing nothing but their underwear and a number displayed on a piece of cardboard hanging from their necks when being auctioned off to foreigners in Las Vegas, Nevada and Toronto, Canada. At the last minute before airing, unknown congressmen threatened the TV Cable industry with restrictive legislation if this documentary was aired. Almost immediately, the rights to the documentary were purchased by unknown persons who had ordered all copies destroyed. A copy of this videotape was furnished anonymously to former Nebraska state senator and attorney John De Camp who made it available to retired F.B.I. chief, Ted L. Gunderson. While the video quality is not top grade, this tape is a blockbuster in what is revealed by the participants involved.
In mid-1993, after The Franklin Cover-Up had been circulating for almost a year, the British-based TV station, Yorkshire Television, sent a top-notch team to Nebraska to launch its own investigation of the Franklin case. Yorkshire had a contract with the Discovery Channel to produce a documentary on the case for American television.
They spent many months in Nebraska, and also travelled this country from one end to the other, interviewing, filming, and documenting piece-by-piece the Franklin story as I had told it in the book. They spent somewhere between a quarter-million and one-half million dollars investigating the story, deploying probably a thousand times the resources and abilities that I personally had
Over the year that I worked with them, I was amazed at the team?s ability to gather new documents and witnesses which kept opening up new and frightening facts about Franklin. They were a crack team. In the final weeks that they were in Nebraska, they expressed their certainty that they would win awards for this documented horror story of government-sanctioned abuse of children; and government protection of some of this country?s most powerful businessmen and politicians, who had been the chief acts in the Franklin story.
Finally, the big day came. Their documentary was to air nation-wide on the Discovery Channel on May 3, 1994. It was advertised in the TV Guide and in newspapers for that day. But no one ever saw that program. At the last minute, and without explanation, it was pulled from the air. It was not shown then, and has never been broadcast anywhere since.
I have a copy of that program, which arrived anonymously in my mail in late 1995. When I watched this pirated copy, I could see clearly why the program had been suppressed. Conspiracy of Silence proved, beyond doubt, that the essential points I had stressed in the book (and more) were all true.
For instance, the team had interviewed Troy Boner. Sometime after that grand jury was over, Troy, guilt-stricken because of his lying over Gary Caradori?s death, contacted me and told the truth about what had happened. This is recorded in a remarkable affidavit (see Chapter 20). The Yorkshire TV team spent a small fortune to confirm Troy?s charges. They flew Troy to Chicago and paid for a lengthy polygraph (lie detector) test at the Keeler Polygraph Institute. With the results of that test, the Yorkshire team was so convinced that Troy was telling the truth, that they featured him in their documentary.
It was only in mid-1996, that I finally pieced together, through sources I am not at liberty to disclose, what happened to stop the broadcast of this documentary.
1. 1. At the time the Yorkshire TV team and the Discovery Channel were doing the documentary, they had no idea how high up the case would go into Government, and what major institutions and personalities in this country, would be found to be linked to the Franklin story. Ultimately, the documentary focused on several limited aspects documented in this book, and developed them much more extensively than I ever had the resources or abilities to accomplish.
2. These areas which the documentary focused on, were:
(a) the use and involvement of Boys Town children and personalities in the Franklin Scandal, particularly Peter Citron and Larry King?s relationships to Boys Town;
(b) the linkage of Franklin to some of this country?s top politicians in Washington, and in the US Congress, with particular attention on those who attended parties held by Larry King at his Washington mansion on Embassy Row;
(c) the impropriety of these politicians and businessmen and compromising of these people by Larry King, through drugs and using children for pedophilia.
3. When the broadcast tape was sent to the United States, Customs officials seized the documentary and held it up as being ?pornographic material?. Attorneys for Discovery Channel and Yorkshire TV were able to get the documentary released. Then, the lawyers went through the film for months, making this or that change or deletion, so that the documentary ultimately advertised to be shown on the Discovery Channel on May 3, 1994, would survive any claims of libel or slander that any of the individuals identified in the documentary might attempt to bring. The lawyers had cleared the documentary for broadcast.
4. During the several months that the documentary was being prepared and advertised for showing, major legislation impacting the entire future of the Cable TV industry was being debated on Capitol Hill. Legislation, which the industry opposed, was under debate for placing controls on the industry and the contents of what could be shown. Messages were delivered in no uncertain terms from key politicians involved in the Cable TV battle, that if the Conspiracy of Silence were shown on the Discovery Channel as planned, then the industry would probably lose the debate. An agreement was reached: Conspiracy of Silence was pulled, and with no rights for sale or broadcast by any other program; Yorkshire TV would be reimbursed for the costs of production, the Discovery Channel itself would never be linked to the documentary; and copies of Conspiracy of Silence would be destroyed.
Not all copies were destroyed, however, as I and some others received anonymously in the mail a copy of the nearly-finished product.
When the Discovery Channel program, Conspiracy of Silence, was being prepared, the British investigative team insisted that they would not go forward on the program unless they had the on-camera personal interview, and verification of Bill Colby himself, that John DeCamp was reporting the truth with respect to Franklin, and with respect to this book, The Franklin Cover-Up. Colby went on camera, and thoroughly shocked the Yorkshire TV team in how strongly he came out, risking himself, to support me and my work on Franklin.
Bill also wrote a letter to Attorney General Janet Reno, in which he strongly recommended that the Justice Department investigate this case from the standpoint I outlined in my book, a copy of which he enclosed with his letter. He got a formal response back from a Justice Department official, promising that the Department would indeed look into the case.
Posted: Aug 5, 2004 10:11 am
Reply Quote
Do you want to see? Yeah I know you do, here you go
http://www.propagandamatrix.com/141003conspiracyofsilence.html
(And George Bush is a rapist!)
The Strange Death of the Woman Who Filed a Rape Lawsuit Against Bush
By: Jackson Thoreau – 11/22/03
Early one Saturday afternoon in July 2003, I made a simple phone call to Margie Schoedinger, a Texas woman who filed a rape lawsuit against George W. Bush in December 2002. I expected to leave a message on a machine, so I was caught a little offguard when Schoedinger answered.
She, too, sounded somewhat surprised I had called, saying she hadn't heard from many other reporters. But she talked to me for a few minutes about the legal action.
"I am still trying to prosecute [the lawsuit]," said Schoedinger, a 38-year-old African-American woman who lived in the Houston suburb of Missouri City. "I want to get this matter settled and go on with my life."
Well, Schoedinger hasn't gone on with her life. In fact, three months after I spoke to her, she died in an apparent suicide. And this matter remains unsettled.
When I asked her in July 2003 about the lack of media coverage, Schoedinger said she wasn't seeking publicity. She said she did not even know about a December 2002 article in the Fort Bend Star, the only U.S. mainstream media outlet that covered this story, to my knowledge. The Fort Bend reporter, LeaAnne Klentzman, said she even went to Schoedinger's home and talked to a man there, who said she could not come to door. While I reached and spoke to Schoedinger on my first attempt, maybe she wasn't ready to talk back in December.
Anyways, Schoedinger said she was surprised the case wasn't covered more because "it is true……People have to be accountable for what they do, and that's why I'm pursuing it."
To be sure, Schoedinger's accusations – which include being drugged and sexually assaulted numerous times by Bush and other men purporting to be FBI agents – are bizarre and hard for most people to believe. But her story fits in with those told by a growing number of people who say they were used as guinea pigs or whatever by members of the CIA or another U.S. agency who wanted to test out the latest mind-controlling drug or just have a strange form of release. And her death – let's just say government agents have made murders look like suicides before.
In her court petition, Schoedinger said police in Sugar Land, another Houston suburb where she said some assailants linked to Bush attempted to unsuccessfully abduct her from her car shortly before the 2000 election, refused to take a report or do anything about that incident. She filed a lawsuit against the Sugar Land department and said that in preparing its defense, Sugar Land police found out that she dated Bush as a minor. I didn't get a chance to ask Schoedinger about that tie and didn't meet her in person, but her driver's license listed her as being 5-foot-8 and weighing 125 pounds, for what that's worth.
The Fort Bend Star story quoted a Sugar Land police captain saying his department had no record of any complaints by Schoedinger. All he had to do was what I did – go to the Fort Bend County Internet site and do a simple search on Schoedinger's name in the area of civil court records. I found the lawsuit Schoedinger filed in December 2000 against Sugar Land police, and it even had numerous responses by the department's attorneys in that case.
(More at: http://fp.enter.net/~haney/jt112203-2.htm)
Posted: Aug 5, 2004 7:26 pm
Reply Quote
Hey, maybe he just had a little too much to drink.
http://www.informationclearinghouse.info/article6622.htm
"only in america can a guy like him find work" no shit.
Posted: Aug 6, 2004 12:33 am
Reply Quote
kinda funny… only in america indeed…