Ex-cop acquitted of killing homeless man chased out of restaurant by angry residents
Published time: 13 Feb, 2014 16:55Edited time: 10 Oct, 2014 13:34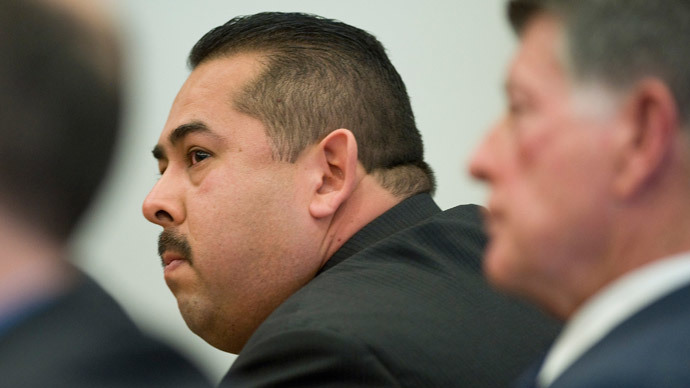 Former Fullerton police officer Manuel Ramos listens as the not guilty verdict is read in the Kelly Thomas murder trial in Santa Ana, California January 13, 2014.(Reuters / Mindy Schauer/) / Reuters
If a recent night out at Denny's is any indication, public life may not go back to normal any time soon for one California police officer even after being acquitted of murder.
Former Fullerton, California, police officer Manuel Ramos was one
of two officials accused of beating a homeless schizophrenic man
named Kelly Thomas to death back in 2011. Thomas was beaten and
tasered multiple times during the confrontation, which left him
in a coma. He died five days later in a hospital bed.
In a controversial trial that ended in January, both the
39-year-old Ramos and former Corporal Jay Cicinelli were found
not guilty.
Although Ramos has been spared jail time, the rest of his public
life looks like it's going to be more complicated, at least in
the short term. Ramos doesn't live in Fullerton anymore, but some
time after his acquittal he found himself visiting a local
Denny's restaurant in the area, and local diners were not pleased
to see him there.
According to a blog post by Orange County Weekly, Ramos was
confronted by customers sitting next to him to the extent that he
stood up and left the restaurant. A photo was also snapped of
Ramos and posted on Facebook, with the caption reading:
"So last night at Denny's we saw this 'cop' (the one that
killed Kelly Thomas) his ass SHOULD be in jail.. & thank
fully the people next to him complained and he got up and left ..
I hope it is like that the rest of your life going places, Kelly
Thomas has no choice of doing anything he wants to do cause of
you .. enjoy your 'freedom.'"
Clearly, emotions are still running high after the trial's
conclusion. Ramos was charged with second-degree murder and
involuntary manslaughter, but while public opinion may have been
squarely against the two police officers, the jury arrived at its
not guilty verdict less than one day into deliberations.
Ramos and Cicinelli may still face federal charges, as the FBI is
currently reexamining the case.
Police originally confronted Thomas after a local business owner
called in to report a suspected car burglary. Videotape from the
scene revealed Ramos putting on latex gloves and saying, "Now
you see my fists? … They're getting ready to [expletive] you
up." The video also shows police taking Thomas to the
ground, hitting him with batons, and striking him in the face
with a stun gun.
According to Ramos' attorney, John Barnett, the verbal threat was
made in an attempt to avoid a physical struggle with Thomas, who
they painted as a violent man with a history of substance abuse.
After the verdict was read, Thomas' parents were in disbelief.
"Just horrified," Cathy Thomas said of the verdict.
"He got away with murdering my son. It's just not fair. So I
guess it's legal to go out and kill now. He was so innocent. It
just isn't fair at all."
About homelessholocaust
I actually do not write most of these articles, I collect them here, for my personal useage, I find Some Other's enjoy them as well, which is a side effect of my Senility. As I am a Theosophist, and also study Vedanta Society of Northern California, so Your Visitation from the Akashic records to approve my feebile works gives me Great Hope! I am 68, years old, I will Come To You in another 30 or so years. You Reinforces my Belief that in my Sleep I visit The Akashic Records when I remember my dream's. I keep notes about 'Over There." the Colour of Daylight is Darker, but the Life is Brighter, property has no meaning, and it is homish. are the energetic records of all souls about their past lives, the present lives, and possible future lives. Each soul has its Akashic Records, like a series of books with each book representing one lifetime. The Hall (or Library) of the Akashic Records is where all souls' Akashic Records are stored energetically. In other words, the information is stored in the Akashic field (also called zero point field). The Akashic Records, however, are not a dry compilation of events. They also contain our collective wisdom.